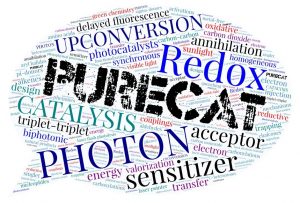 Talented Researcher Support Program – GenT Plan
---
PHOTON UPCONVERSION REDOX CATALYSIS (PURECAT

)
We have initiated an original and innovative research program to further the knowledge of the generation of reactive intermediate species through this novel combination of Vis-to-UV upconversion and a SET-initiated process and its subsequent application in Chemistry. Such pathways will develop a sustainable reaction methodology to expand the current scope of chemical transformations using visible light and organic (metal-free) dyes.
The project actually requires a truly multidisciplinary and integrated approach which includes catalytic chemistry, photochemistry and photophysics, chemical functionalization, high-pressure gas handling, reactor technology, and product and trace analysis.
Students with great initiative and motivation at whatever stage who are interested in these topics, please just email to us in order to learn more about grants/contracts opportunities in our research group.
Open for your Submission [Molecules IF 4.411] Special Issue on "Photochemical Reactions in Organic Synthesis



I kindly invite you to contribute a research article or review paper to the below Special Issue 

Special Issue Title: Photochemical Reactions in Organic Synthesis
Website: https://www.mdpi.com/journal/molecules/special_issues/Photochemical_Reactions
Submission deadline: 31 October 2021

*Author Benefits*
Fast manuscript handling time—A first decision is provided to authors approximately 12.6 days after submission; acceptance to publication is then undertaken in 4.4 days. 
High visibility: indexed by the Science Citation Index Expanded (Web of Science), MEDLINE (PubMed), Scopus and other databases. 

*Article Processing Charge*
An article processing charges of CHF 2000 (APC) will apply to each accepted paper. As an invited submission, 10% discount would be offered for your submission. 

*How to Submit*
Please refer to the Instructions for Authors at: 
https://www.mdpi.com/journal/molecules/instructions 

I would greatly appreciate hearing from you at kayla.li@mdpi.com, regarding your interest in submitting an article

We look forward to hearing from you soon.