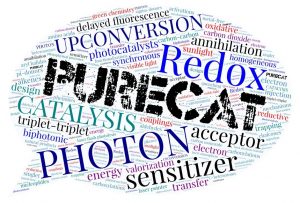 New vacancy for a PhD contract. Check http://www.upv.es/entidades/SRH/conypi/1066303normalc.html
Applications until 20th march 2019.
Talented Researcher Support Programme – GenT Plan
The present proposal aims to develop a sustainable catalytic reaction methodology to be applied in relevant chemical transformations using visible light as energy source. The planned activities are at the interfaces of photophysical, organic synthesis, and technological studies.
Of particular interest is the combination of several factors that makes this methodology attractive and highly applicable to organic chemistry: i) photolysis under low-energy intensity, which avoids unselective bond cleavages as well as undesired degradation of the corresponding reagents/products; ii) the use of metal-free and non-toxic organic dyes as photocatalysts that are commercially available; iii) involvement of common reactants for this type of transformations such as aryl halides, ketones, styrenes, enol acetates, etc.
The very original part of this proposal is the generation of high-energy UV or near-UV light by photon upconversion technology, initiating the redox photocatalytic process. Photon upconversion processes will be evaluated toward the redox activation of target compounds (i.e. in aryl halides) that lie outside the energy window of the primary irradiation wavelength. As far as we are aware, this combined approach has been barely attempted and we expect it to produce exciting and significant results. The project will also result in an innovative methodology and will make way for applications to the synthesis of fine chemical building blocks, pharmaceuticals, agrochemicals, and materials.
To achieve these objectives, we will initially focus our studies on the design and understanding of new combinations of photon upconversion systems. Subsequently, it will be of great interest the implementation of this technology in visible-light mediated photoredox reactions, in order to establish novel synthetic methodologies that will result in the formation of industrially relevant materials.